engraving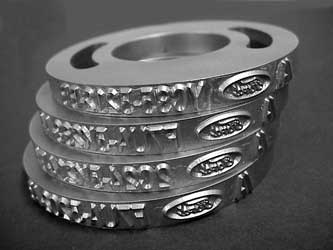 Koehler, Inc. has been a leader in Industrial Engraving for over 100 years. Whether your need is as simple as 2-D or as complex as 3-D, Koehler can meet the challenge. Our 3-axis CNC machines and manual pantographs give us the ability to engrave a wide variety of material such as plastic/polymer, non-ferrous metal, stainless steel and even heat treated tool steel. We can also engrave on customer supplied dies.
At Koehler, we take pride in our ability to engrave the smallest detail with accuracy. Our skilled craftsman can engrave detail in an area as small as 1/16" dia. ejector pin.
We can give you the accuracy you desire with our on-site Wire EDM capabilities. If your need is as small as single stamp or as large as a die block, Koehler can help.
radial engraving
Koehler can engrave detailed artwork on either convex or concave surfaces.
Our engraving quality is unparalleled in detail and precision, even at 1-2 mm.
injection mold engraving
Koehler has a wide range of experience servicing the unique and varied needs of the injection mold industry.
Koehler is the regional leader in direct engraving into mold cavities and engraving EDM carbon electrodes.
Copyright©2006-2013, Koehler, Inc. All Rights Reserved.